Saramar
Transolid Saramar® solid surface material is a beautiful, realistic, and easy care subway tile pattern. These walls have the look of tile without the maintenance of grout. Easier to install than tile, these walls glue right over existing surface and are trimmable for a custom fit.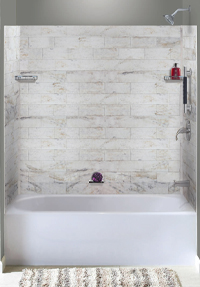 The thick ¼" compression molded solid surface material is superior in strength, beauty, and is easy to clean. Another feature is that this surface is an extremely dense material. As a result, it provides an environment that is very unfriendly to bacteria and won't promote the growth of it.
Saramar® solid surface material has color all the way through for a renewable surface.
SWK Wall Kits include three wall panels, two color coordinated inside corner trim pieces, wall panel 100% silicone adhesive and interior sealing silicone and is available in 72" and 96".